Indirect Water Heater in the Puget Sound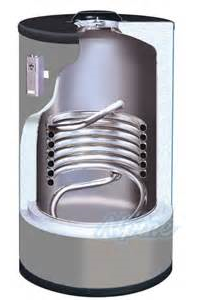 An Indirect Water Heater in the King County and Snohomish County is tied into your Gas boiler heating system to heat the homes domestic hot water.
High efficiency indirect water heaters are made with quality stainless steel materials for excellent heat transfer and a longer tank life.
They require a boiler. These water heaters work in conjunction with a boiler to heat the water that's circulated through the heat exchanger in the storage tank.
When paired with high efficiency boiler, these indirect storage tanks can generate over 50% more hot water than many water heaters of similar size. Contact us today for water heating options in your area!
Call: (425)-409-5661
Text: (425) 448-7671
Submit a request through our online request form.
Feel free to check out our Contact Us for more options!