Radiant Floor Heating Maintenance in the Puget Sound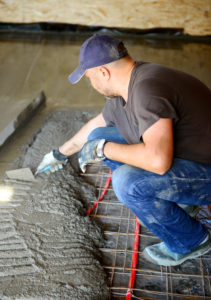 Why Radiant Floor Heating Maintenance Is So Important
Radiant floor heating is one of the most innovative home comfort systems in the HVAC market. Not only does it keep your toes toasty, but it can also serve as a heater for your entire home. As a machine, it is vulnerable to wear and tear, which is why it is important to not neglect Radiant Floor Heating Maintenance in Mountlake Terrace, Edmonds & Lynnwood, WA.
You may be putting off maintenance due to the cost. But it is important to remember with the proper maintenance and care, your radiant floor heating system is up to 35-percent more efficient than traditional heating units. Saving you a great deal of money with lower utility bills.
What Our Technicians Will Do During A Radiant Floor Heating Maintenance in King County and Snohomish County
It is common knowledge that air conditioning units and heaters need annual care to ensure optimal performance. But due to the fact that this form of heating does not have ducts to clean nor filters to change. Homeowners tend to believe that it does not need maintenance.
The good news is that you have stumbled across a contractor who will do everything in our power to keep your home comfortable, and your units efficient. When it comes to Radiant Floor Heating Maintenance in the Puget Sound – we have got you covered.
When our technicians come in to restore your radiant floor heater to its former glory, they will conduct the following inspections:
Thorough investigation of the unit
Pressure check to ensure that everything is as it should be.
Ensure that the pumps and valves are in excellent condition, absent any sign of wear and tear.
Cleaning various components for peak performance.
Ensuring that there is nothing inhibiting the performance of the radiant floor heating system.
Dealing With Radiant Floor Heating Is Tricky – Trust Only The Best For The Job
Finding a reliable HVAC contractor in the industry is already of utmost importance, regardless of the unit that you have in your home. However, particularly special attention needs to be placed when hiring a contractor to deal with radiant floor heating. As oftentimes, smaller contractors have never worked with this particular home heating system before.
But the good news is that you don't need to put your home at risk. Energy Works, LLC has been in the industry for over 20-years, and our technicians have the training, and experience to restore your radiant floor heating back to its former glory.
Get In Touch With Us Today To Schedule Your Appointment!
If you are looking for a contractor that you can trust to handle your Radiant Floor Heating Maintenance in Mountlake Terrace, Edmonds & Lynnwood, WA – we are one call away. After getting in touch, our friendly support staff will help you schedule a meeting with our tech team at a time that is convenient for you.
You can get in touch with our staff and schedule a meeting at a time that is convenient for you.
Call: (425)-409-5661
Text: (425) 448-7671
Submit a request through our online request form.
Feel free to check out our Contact Us for more options!