Radiant Floor Heating Installation in The Puget Sound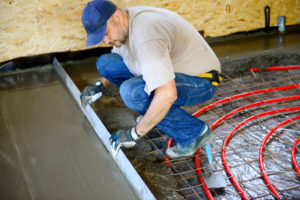 The Beginner's Guide To Radiant Floor Heating Installation in King County and Snohomish County
Energy Works, LLC is here to guide you on everything you need to know when it comes to Radiant Floor Heating Installation in Mountlake Terrace, Edmonds & Lynnwood, WA. Radiant floor heating is a rather innovative way to keep the chill at bay in your home. It also goes by the name of in-floor heating.
Why You Want To Get A Radiant Floor Heating Installation
The typical homeowner has no clue as to what makes radiant floor heating so special. The fact is that this particular heating system is far more efficient than your traditional HVAC machines. This is mainly thanks to it using basic physics to its advantage.
Instead of forcing warm air into an area in your home, radiant floor heating relies on the heat rising (basic physics), which not only ensures your toes are nice and toasty. But also that there is an even heat distribution throughout your home.
Radiant floor heating is more viable in large open spaces. Forcing heat into tall rooms, or large spaces often results in inefficiency and skyrocketing utility bills. However, getting a Radiant Floor Heating Installation in Snohomish and King Counties would lead to far more efficiency, and drastic cuts in your monthly utility bills.
The Three Main Types Of Radiant Floor Heating Available To Choose From
It is important to remember that there are three distinct types of radiant floor heating available to choose from. When you are opting for a Radiant Floor Heating Installation in Snohomish County or King County – it is important to know which type of unit is best suited for your location.
The first is a forced-air based system. Essentially, this system works by channeling hot air through manufactured channels in the flooring. This is not found commonly in homes.
The second type of unit is called hydronic-based floor heating. This particular system relies on a
network of tubing in your flooring, where warm water is dispersed to provide an even and comforting warmth in your home. This is known to be the most efficient of the three radiant floor heating systems.
Lastly, we have the electric radiant heating. This system relies solely on the cost of power in your local community. In the local area that we serve, we don't particularly suggest this type of unit as it can become costly.
Choosing A Contractor That You Can Trust To Handle The Task At Hand
As you can imagine when it comes to radiant floor heating installation in Mountlake Terrace, Edmonds, Lynnwood, WA, and the surrounding area – the professional contractor is the only way to go. Navigating the labyrinth of tubes, and channels that need to be accurately placed for even dispersion in the flooring itself is a difficult ordeal. Nevermind, getting the unit installed in a timely manner.
The good news is that Energy Works, LLC has 30-years of experience in the industry, and we are here to help you. During our years serving the HVAC community, our focus has always been on providing the best comfort we can to customers. We also firmly believe in following environmentally friendly practices.
Would you like to find out more when it comes to radiant floor heating installation? Why not schedule an appointment with our expert technicians. They will provide their insight, and help you find the perfect system for your home. From there, they will handle the installation with careful consideration to quality and professionalism.
You can get in touch with our staff and schedule a meeting at a time that is convenient for you.
Call: (425)-409-5661
Text: (425) 448-7671
Submit a request through our online request form.
Feel free to check out our Contact Us for more options!